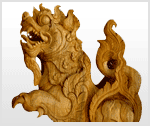 History of thailand sculpture
History of thailand sculpture
Thai sculptors of the past concentrated almost exclusively on Buddha images, producing works that rank among the world's greatest expressions of Buddhist art. These have ranged in size from Sukhothai's gigantic seated Buddha at Wat Si Chum, which measures 11 metres from knee to knee, to tiny, fingernail-sized Buddhas worn as amulets.
Their greatest achievements were during the Sukhothai period, when the smoothness and sheen of cast metals perfectly matched the graceful elongated simplicity of the basic form. To emphasize the spiritual qualities of Buddhism, Thai sculptors eschewed anatomical details such as muscles and bone structure, realizing that these would only distract from the enigmatic serenity that was their goal.
Thai sculpture received a boost in 1933 when an Italian sculptor, Corado Feroci founded the Fine Arts School which in 1943 became Silpakorn University. Having first arrived in Thailand in 1924 to work with the Royal Fine Arts Department on the creation of monumental sculptures, Feroci is today remembered as the father of modern art in Thailand. He became a Thai citizen in 1944, changing his name to Silpa Bhirasri, and served as Dean of the Painting and Sculpture Faculty until his death in 1962.
Many of his students have been awarded with the "National Artist" status. These include, for example, Paitoon Muangsoomboon, Chit Rianpracha and Pimarn Moolpramook whose works have appeared in various places such as at the Benjasiri Gardens in Bangkok. Another artist who well-known among the Thais and abroad is Misiem Yip-in-tsoi.
She took up painting first, and then sculpture. She achieved great success in the latter field. Examples of her works, much of which depict children, can be seen in many private collections as well as in a sculpture garden she established in Nakhon Pathom near Bangkok.
Many modern Thai sculptors have experimented with the artistic possibilities of new methods borrowed from industrial technology to create works both simple and incredibly complex in meaning and effect. Others have taken objects out of their ordinary environment and turned them into arresting works of art. In one exhibition at the art gallery of the National Museum, buffalo horns and hides, rice sacks, dried rice stalks, sickles and other implements were used to create the essence of being on a farm.
---------------------------------------------
From
http://sunsite.au.ac.th